Come October, we hold our Annual General Meeting (AGM 2023) to review the year's activities and begin our planning for 2024/25. We hope all our members can attend. Non-members still have time to register. The new City of Cape Town CID by-law and policy came into effect on 1 July and that is available to view online.
The recent bout of storms and cold fronts experienced in the Cape have certainly added to the work of the CIDs, in particular in the way of road maintenance and fallen trees. We'd like to remind you at this time to assist us in providing effective service by logging a service request for any faults encountered. More on this below. And if you missed our Spring updates, we have undertaken several urban beautification projects, adding greenery and cleaning up public areas of Wynberg, which you can read about in our August blog. Otherwise, read on for more on the above.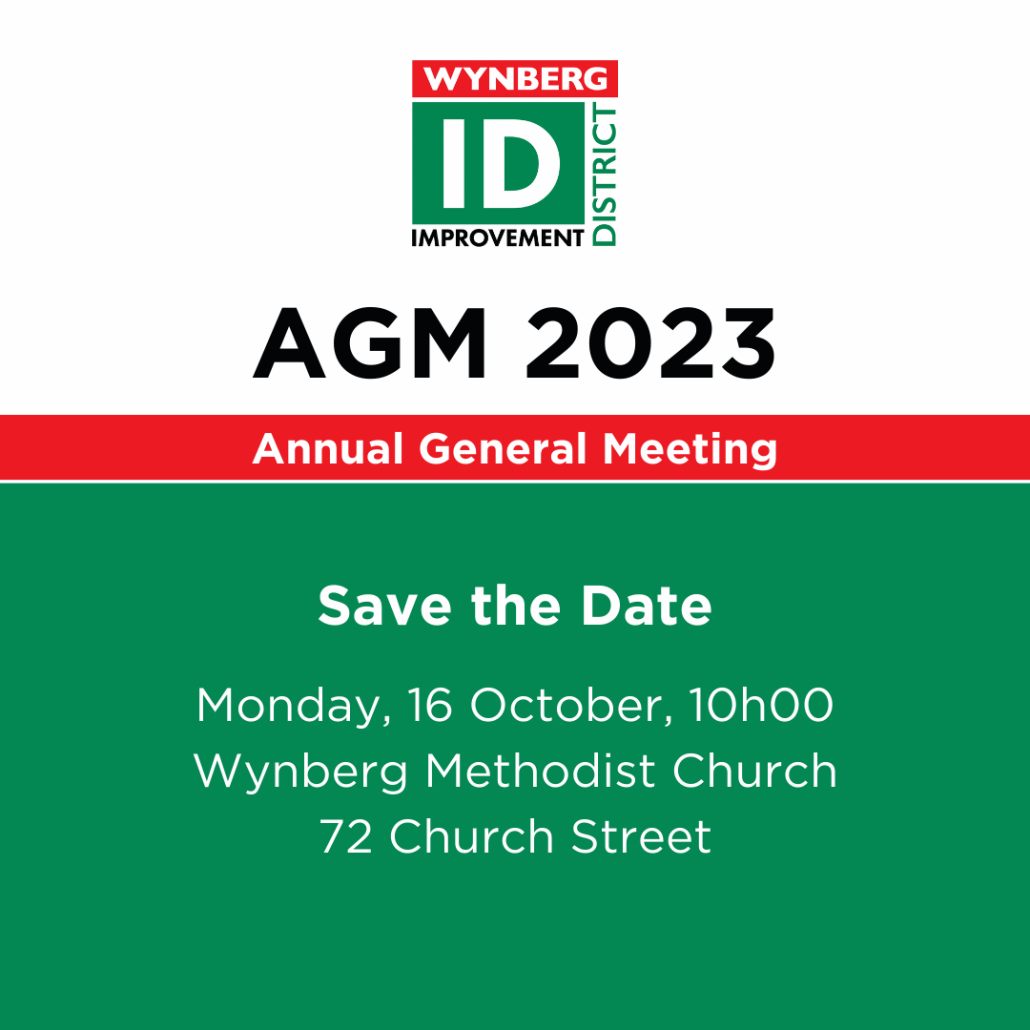 SAVE THE DATE! Our AGM 2023 is coming up
At the forthcoming Annual General Meeting for the Wynberg CID, all stakeholders are invited to a review of the year's activities and planning for 2024/25.
Resolutions presented at the AGM can only be voted for by bonafide members. All non-members wishing to take part must be registered before 5 October.
View all AGM documents here.
AGM Details
Monday, 16 October 2023, 10:00
The Methodist Church, 72 Church St, Wynberg
RSVP to info@wynbergid.co.za.
New CID By-law Policy
The new CID by-law policy came into effect from 1 July, which serves "To provide for the establishment of City Improvement Districts; to provide for additional rates; and to provide for matters incidental thereto."
The City of Cape Town's by-law and policy regarding the establishment and management of City Improvement Districts has gone through several iterations over the years since the concept of a CID was first tested in the year 2000.
The latest revisions of the by-law and policy comes as more than 50 CIDs are now in operation.
The by-law is available to download online here at openbylaws.org.za.
Read more
http://wynbergid.co.za/wp-content/uploads/2020/09/Wynberg-ID-logo-2300px-300x274.png
0
0
Admin
http://wynbergid.co.za/wp-content/uploads/2020/09/Wynberg-ID-logo-2300px-300x274.png
Admin
2023-09-26 16:23:48
2023-09-29 10:19:01
AGM Save the Date, logging a service request & new CID by-law