The saying goes that 'Great floods flow from simple sources' and as we prepare for the harshness of the howling gales and pelting rain that make up Cape Town storms, we couldn't agree more. Many of us are more conscious of the pivotal role that winter preparation plays in city management and what the lack of it can look like as demonstrated in the aftermath of the 2022 KZN floods.
"A combination of terrain challenges, insufficient or ill-maintained infrastructure and increased population density are the main contributors to flooding problems," says Gene Lohrentz, CEO of urban management company Geocentric.
Here is how we are making sure we are ready to weather the storm:
Creating a clean eco and economically friendly environment:
Did you know that according to the Waste 2020 Market Intelligence Report, the Western Cape created between 138 278 and 162 138 tonnes of plastic waste in 2019? This much plastic equates to an estimated market value of between R473.8 and R631.7 million that is simply not being tapped into because of the manpower and infrastructure required to sort it at scale.
We help turn our trash into cash and create additional value out of waste products by bridging the gap between the litter on the street and the recycling plant. Cleaning and sorting as we go into our appropriate wheelie bins to be recycled directly from the drains and gutters of our streets.
But it is not only our drains. We also sort the content of the public litter bins. We service these bins daily and the plastic bottles, cups and cans are now removed and recycled where possible, instead of sending everything to a landfill.
New Weather Stations:
2022 marks the final rollout of our weather stations. These are vital in monitoring rainfall intensity, giving us information on potential flood areas so that we can preempt pumping them. In our busy districts, the weather also impacts how much accident monitoring we do and helps us ensure we have enough staff to keep infrastructure damage to a minimum and avoid road blockages and closures.
Taking an upstream approach to ocean conservation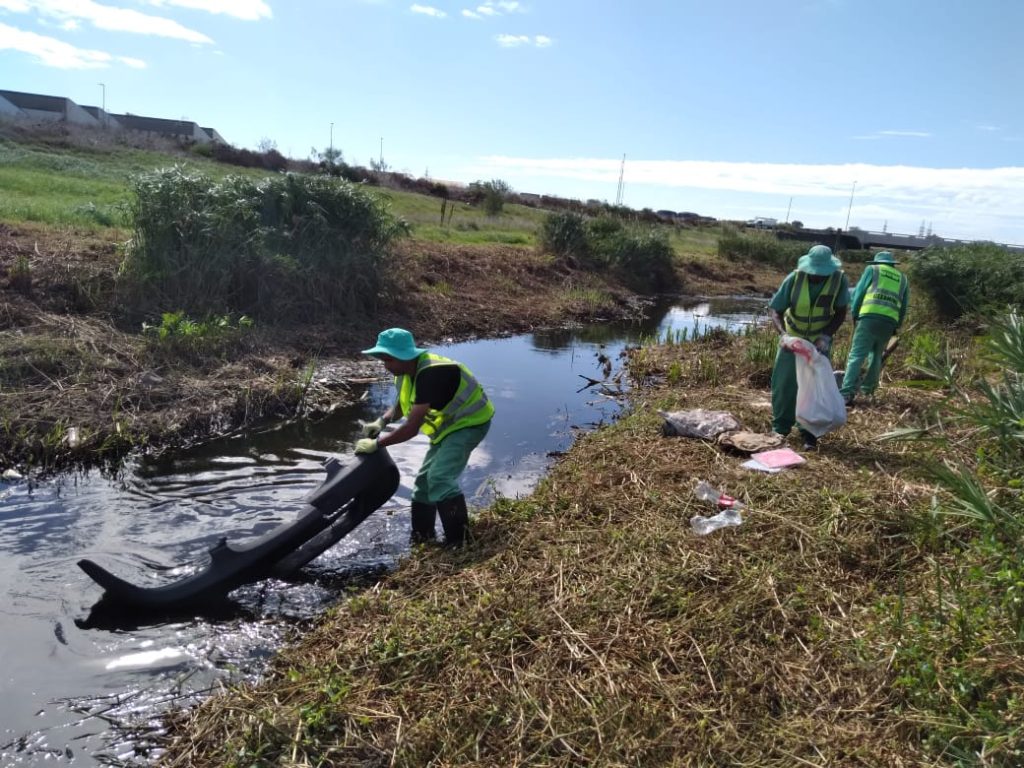 As part of our winter preparedness programme, we haul out all sorts of items from our waterways. This allows heavy rains to safely run along the contours of the land, into the rivers and eventually the sea.
We consistently intervene to keep our drainage system healthy and prevent waste from entering our stormwater runoff systems by methodically cleaning our drain catch pits and drain inlets. Just before winter, we ramp this service up as part of our winter preparedness programme.
Importantly this cleaning means heavy rain runs away from buildings and infrastructure. Preventing damage as much of the cost of flooding is due to the impact that items carried by the water have.
So what happens to all the litter we remove?
You guessed it, most of the litter removed is plastic bottles, glass bottles and cans which are separated and earmarked for recycling.
Trimming the Trees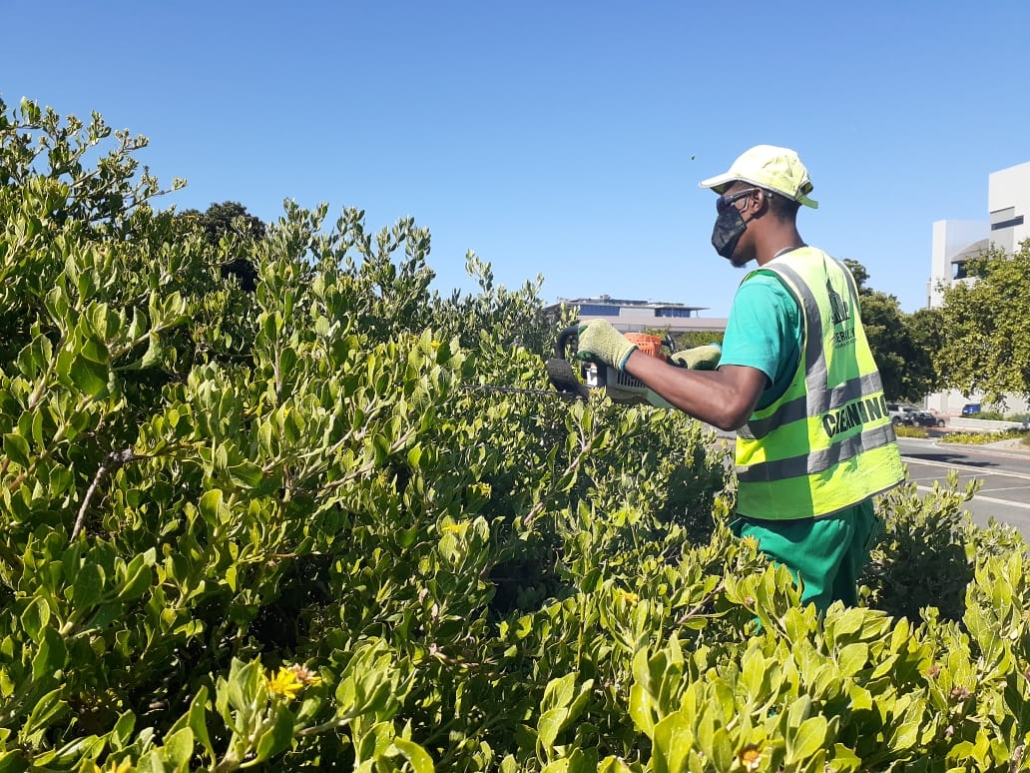 Every month we carefully trim the trees in our area and report major tree issues to the Recreation and Parks Department and relevant property owners. By professionally caring for our trees before our wind direction changes we prevent any dead, diseased or damaged branches from falling onto people, cars, electric fences, vehicles, and properties. It also serves to help clear any branches that may be blocking lights, alarm beams and security cameras to make sure criminal activity is kept to a minimum.
Here is what you can do to help us and yourself this winter

Clear the clutter from your gutter so the water can run off to a stormwater drain safely.
If you do not have additional water tanks ensure your water is draining to stormwater and not sewage drains. To direct rainwater into the sewage system is illegal and can land you with a heavy fine.
The maintenance of security cameras is just as important as installing them. Dust carried by our winds builds up on the lenses turning into the mud with the first rain and making any evidence not admissible in court so it is best to clean them before the rains start.
While no individual raindrop ever considers itself responsible for the flood we all have a responsibility to pull our weight. Our work forms an essential preventative measure that results in environmentally responsible and sustainable prevention of weather-related challenges such as traffic congestion, property damage, and power outages.
If you notice any weather-related issues please communicate to our Community WhatsApp Group below.
If you have any concerns to report, please contact one of the following numbers:
10111 – SAPS (South African Police Services)
107 – City of Cape Town Disaster Management
021 565 0900 – Geocentric Control Room
0800 872 201 – Give Dignity Initiative
http://wynbergid.co.za/wp-content/uploads/2020/09/Wynberg-ID-logo-2300px-300x274.png
0
0
Admin
http://wynbergid.co.za/wp-content/uploads/2020/09/Wynberg-ID-logo-2300px-300x274.png
Admin
2022-05-30 09:27:02
2022-05-30 09:27:03
Blown Away – How we are preparing to weather the Cape of Storms